GILL JAMES -- AUTHOR-CHIEF EDITOR
Gill James writes fiction and educational materials for children and young adults and has over thirty books in print. She enjoys walking and travelling and is often inspired by the landscapes she sees and the people she meets. She tends to see something mysterious and exciting beyond everyday happenings.
Her interest in forming a publishing company began when just for fun she started publishing her own short stories. Unable to produce enough to make a whole anthology she decided to invite others to join her. The quality of submissions was encouraging and being well aware that many good writers unpublished by the mainstream publishers she decided to carry on publishing. She could not do it alone and was delighted to find Debz who was more than happy to join her on this new adventure.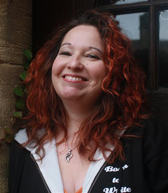 DEBZ HOBBS-WYATT -- AUTHOR-MARKETING MANAGER- EDITOR
Debz Hobbs-Wyatt works with Gill in the selection of the new titles and their marketing campaigns. This means she also works closely with the authors through the production of the book and in helping the authors with generating publicity. She will help to arrange launches and give advice where needed. Also a writer, Debz writes adult fiction with the intention of putting the unusual in the usual. Her style fits with what Bridge House is looking for, something that makes you think. And this is the vision she shares with Gill.
Debz is also a published short story writer, won the Bath Short Award in 2013 and her debut novel While No One Was Watching was published by Parthian Books in 2013.
We work for the love of books, rarely pennies!