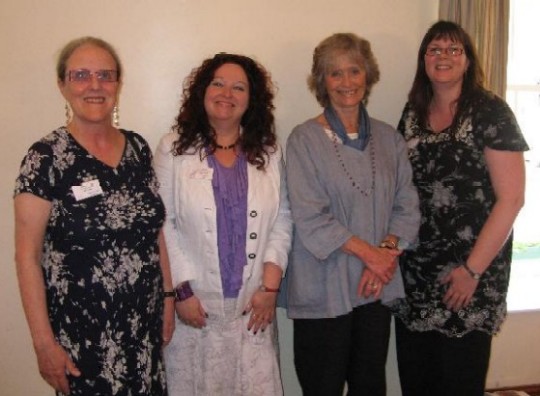 Left to right:
Gill James, Debz Hobbs-Wyatt, Virginia McKenna OBE and Nicola Rouch (former admin assistant).
Picture taken at Guardian Hay Festival June 4th 2010
at the Gentle Footprints Launch
Bridge House Publishing was conceived by Editor Gill James in 2008 and even though we are a new publisher we have to date published close to titles.
It all began with our first publication, Making Changes, an advent calendar of stories, in November 2008 which was more of a creative single project that escalated!
Realising the potential and market for well written, innovative anthologies Gill brought on board Publicist, Debz Hobbs-Wyatt. Debz is also a writer.
In February 2009, Bridge House Publishing LLP was born . It is a fully fledged new publishing company specialising in anthologies showcasing both new and established writing talent.
Bridge House understands the importance of giving new writers a chance. In a competitive market anthologies give authors and readers alike an opportunity. Authors can reach out to a wider audience and readers can discover new and varied writers to look out for in the future.
Many of our titles also support a charity!
Our most successful title to date in terms of sales is Gentle Footprints launched at the Guardian Hay Festival by Virginia McKenna and some of the authors. Also featured on The Books Show on Sky Arts. Picture above taken at that event!
The 2011 charity is Children's Hospices UK with a children's book called Hipp-O-Dee-Doo-Dah full of uplifting stories for junior school children! We are also supporting the Caron Keating Foundation with our angel collection Voices of Angels.